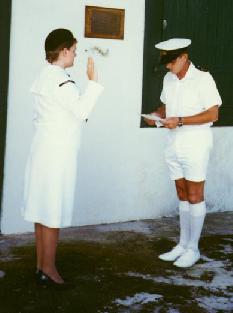 ASW
We will locate your faintest whisper
Target your slightest movement
Gaze upon the heat of your body
We will hear your pounding heart
Even in the deepest ocean
And when you finally become aware of our arrival
We will have begun your departure...forever !
VP Navy homepage: This is a great page, created by Nevins Frankel. Everything you always wanted to know about P-3 Squadrons, as well as earlier patrol aircraft !

VP-22 : My first squadron, the "Blue Geese"

VP-17: My second (and most favorite) squadron, the "White Lightnings"

VP-9: My final squadron, the "Golden Eagles"



Fly Back...
My Navy Career
I've had an interesting Navy career so far: I went to boot camp in Orlando, Florida, then on to Millington, Tennessee for a year of avionics training. From there, I went to Mountain View, California (near San Francisco) for avionics training on the mighty P-3 Orion Antisub Warfare aircraft. I got orders to Barbers Point, Hawaii, and spent five years there, in three different squadrons. I made three deployments to Diego Garcia, and one to Misawa, Japan. I've been on detachments to the following places: Perth, Australia; Cocos/Keeling Islands; Singapore; Utapao, Thailand; Osan, Korea; Okinawa; Wake Island; Guam; Maldive Islands; Oman; and Bahrain, to name a few. I've worked on all the avionics systems on the aircraft, including the radar, all radios, satellite communication equipment, teletype, computer, navigation equipment, Infrared sensors, etc. The photo of my re-enlistment was taken on the porch of the Plantation house in Diego Garcia, and my (nominal) re-enlisting officer was a British Royal Navy leftenant, from the R.N. survey ship, the "Herald". The other photos are day and night pictures of the P-3 Orion.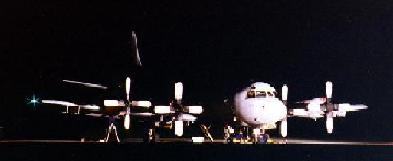 "Bombs Away !!"