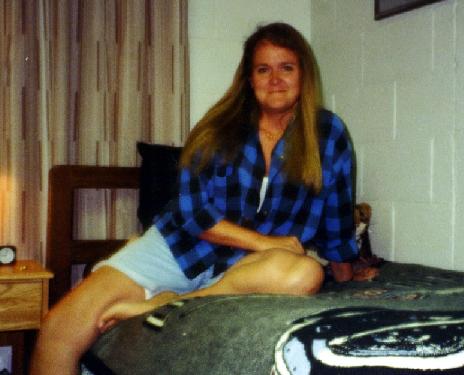 So, who am I, anyway ?!
That's a good question, wish I had an answer to it, myself. I grew up in Duncanville, Texas (a suburb of Dallas), and bummed around the Metroplex area for another 6 years or so after graduation, living at various times in Mesquite, Arlington, Irving...trying to work and go to school, not really succeeding at either one.
I joined the Navy in 1990, right before the Gulf War, and it was probably the best decision I ever made. I've gotten a pretty good education, gotten to travel to places most people have never even heard of, and made some of the best friends of my life! More recently, I got out of the Navy in November 2000, after putting in almost ten years.
I took a civilian equivalent of my military teaching job for a year after I got out, then transitioned over to a contract as a Visual Basic programmer. That turned into a civil service job doing much the same - but with all the cutbacks who knows if I'll get to keep it. The photo above was taken in Diego Garcia, it was the most recent one I could find that didn't have a bunch of other people in it (this is MY page, after all!). I've got to get some pics taken, but it just seems like it's never the right time to take one. I always seem to have some excuse for ducking out of pictures!
In other news, I survived Hurricane Ivan - my story and some pics are here.

If you've found this page because you 'knew me when' and were looking for me...email me!! I love to hear from folks I knew and have lost touch with...it's part of what prompted this page in the first place. Of course now there are all kinds of places to reconnect with old friends (such as classmates.com and reunion.com, both of which I've found old friends on myself), but sites like that didn't exist when I set up this page originally.
Below is a list of links to see pictures of some of the cool, and more "out-of-the-way" places that I've been.
What I (did) in the Navy
---

Oh, the places you'll go !
---
Some of my hobbies...
As for the other interests in my life...I scuba dive, dabble in ham radio (though I used to be quite active, may be again someday...I'm N5YFN), keep freshwater aquariua (if I can't go to the fish, I'll just bring them to me...LOL), take photographs (all the ones here are mine except the P-3 "bombs away"...and the ones OF me, of course), play computer games (SUCH a time-waster, but so much fun).

I also collect carousel horses (porcelain figurines). I've been fielding enough questions on them lately that I've set up a separate website for it...Carousel Miniatures Page. Don't have any 'real' ones yet, but I will someday! Last but not least, I READ...READ...READ. I'll get off my duff and put up a favorite author page one of these days. Here's a quote for you...


"I swear by my life and my love of it that I will never live for the sake of another man,
nor ask another man to live for mine."

If you recognize this quote, and know where it came from...then you really know quite a bit about me. If you don't know where it came from (and want to know), email me and I'll tell you.
---
General Memories and Musings

A place for random thoughts and memories...

Six Flags over Texas
School (K-12) and my favorite teachers
Navy AV(A) school, Millington
P-3 FRAMP at Moffett Field
New Orleans, Mardi Gras '92
Some thoughts on my favorite musicians

---
I wanted to write a bit on internet security here, but seems like I never have the time or inclination. So, I'll just provide these links...real eye-openers!

Gibson Research Corporation: I strongly suggest that you visit the SHIELDS UP! section, and perform the shield and port tests found there. The results might surprise you.

Zonealarm Firewall: Even if you already have a firewall, or don't think you need one...think again. This is the best available firewall that I've found. Steve Gibson (from GRC) also touts it VERY highly, and the two companies have no relation to one another (though you'll find references to each other on both sites). This firewall is absolutely free to the home user.

Anti-Virus: If you aren't running an AV program (or haven't updated it in the past week), you're just asking for trouble.

If you don't have an AV program, or don't update it at least weekly, then you are contributing to the loss of millions of dollars (by businesses and individuals) that occurs every time a virus/worm is propagated.

My personal recommendation is AVG by Grisoft. And guess what...it's even free for home use! I've found it to be on par with Norton and better than McAfee - and much cheaper and much less of a memory/resource hog than either one.
I'll leave you with a taste of Hawaii...this photo is of Akaka Falls, on the Big Island of Hawaii.